Taco Recipe

A taco recipe can come in many different ways for this popular dish.  Make it simple and healthy with The Dinner Plan Man and the Wildtree way.
NO preservatives
NO food dyes
NO additives
NO MSG
NO GMO's
USDA ORGANIC

Fish Taco
Taco Soup
Taco Salad
Taco Dip
Chicken Taco
Shrimp Tacos
Tacos - a variety

For more recipes and/or shop for Wildtree products, go to www.TheDinnerPlanMan.com (opens in new internet window).
---
-----------Advertisement:-----------
-----------Advertisement:-----------
---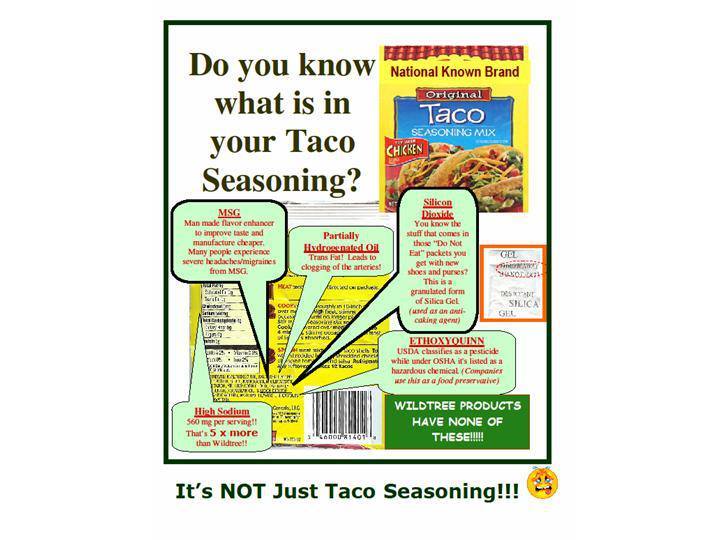 Do you ever read labels?  When you go with the national brands, the ingredients are made to make it cheaper and last longer on the grocery store shelve.
Partially hydrogenated oil.  That's trans fat and clogs your arteries.  MSG - a man made flavor enhancer that causes headaches and other reactions for many.  Then there is Ethoxyquinn.  Ethoxy who?  The USDA lists that as a pesticide.

It may not kill you overnight...but neither does smoking.  How important is your long-term health?

---
Wildtree offers the highest quality herbs, spices and culinary blends that are free of preservatives, additives, fillers and promote a healthier lifestyle. They believe in the value of making cooking a quicker, easier, more healthful project for those who are short on time. Wildtree also offers a fun adventure for those who wish to be more creative in the kitchen. Wildtree offers their representatives the opportunity to earn unlimited income and have a home based business that allows them to live the American Dream.  
Wildtree decided to create and offer products for today's consumers. Most of us do not cook from scratch anymore and let's face it - we are a sauce from a jar, soup from a can, chicken shaking generation. Packaged foods do make our life easier, but they are also expensive, loaded with fats, salts, and preservatives, and just not as tasty as homemade. Why not rediscover cooking & healthy eating the Wildtree way?