Fish Taco Recipe

Fish taco recipe that is quick and easy...with a healthy twist from The Dinner Plan Man.

For more recipes and/or shop for Wildtree products, go to www.TheDinnerPlanMan.com (opens in new internet window).
---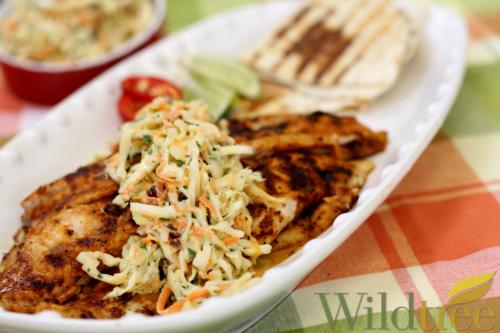 Chipotle Lime Fish Tacos with Cranberry Horseradish Slaw
Servings 12
Prep Time 20
Cook Time 10
Ingredients
Fish
2 1/2 pounds flounder fillets
2 tablespoons Wildtree Chipotle Lime Rub (Item #10736 at www.TheDinnerPlanMan.com)
1 teaspoon Wildtree Natural Grapeseed Oil (Item #10229 at www.TheDinnerPlanMan.com)
Coleslaw
4 cups green cabbage, finely sliced
3/4 cup carrots, shredded
1/4 cup cilantro, finely chopped
1/2 cup mayonnaise, light
3 tablespoons Wildtree Cranberry Horseradish Blend (Item #10835 at www.TheDinnerPlanMan.com)
2 tablespoon sugar, granulated
3 tablespoons apple cider vinegar
1/2 tablespoons sea salt  
12 6-Inch tortillas
Method of Preparation
Toss cabbage, carrots, and cilantro in a large bowl. In a small bowl, combine all other ingredients to create dressing for slaw, taste for preferred seasoning. Pour dressing over vegetables and mix for 1 minute and allow to set in refrigerator for 30 minutes. Rub flounder fillets with Chipotle Lime Rub, use more or less depending on desired spiciness. Lightly brush both sides of fillets with Grapeseed Oil. Preheat grill or saute pan to high heat and lightly oil. Grill/cook fish on one side for 2-3 minutes, then flip and cook for an additional 2-3 minutes, or until fish is cooked through. Serve with warmed tortillas and cranberry horseradish slaw to top off this fish taco recipe.

---
-----------Advertisement:-----------
-----------Advertisement:-----------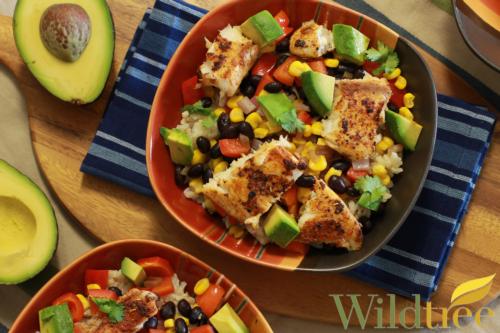 Fish Taco Bowl
Servings 4
Ingredients
1 ½ cups dry brown rice, prepared according to package directions
2 tablespoons Wildtree Natural Grapeseed Oil, divided (Item #10229 at www.TheDinnerPlanMan.com)
½ cup red onion, diced
1 bell pepper, diced
1 cup corn
1 cup black beans, drained and rinsed
1 pound tilapia, or other white fish
4 teaspoons Wildtree Spicy Carne Asada (Item #10834 at www.TheDinnerPlanMan.com)


Method of Preparation
Heat 1 tablespoon Grapeseed Oil in a skillet over medium heat. Add the onion, bell pepper, and corn; cook until tender. Add the beans; cook until heated through. Add the rice and toss to combine; season with salt and pepper if desired. Remove from heat; cover to keep warm. In a separate nonstick skillet heat the remaining tablespoon of Grapeseed Oil over medium high heat. Rub the Carne Asada Seasoning all over the fish. Sauté on both sides until completely cooked through. Divide rice mixture and fish among bowls. Serve with diced avocado and cilantro if desired for this fish taco recipe.

---
Wildtree offers the highest quality herbs, spices and culinary blends that are free of preservatives, additives, fillers and promote a healthier lifestyle. They believe in the value of making cooking a quicker, easier, more healthful project for those who are short on time. Wildtree also offers a fun adventure for those who wish to be more creative in the kitchen. Wildtree offers their representatives the opportunity to earn unlimited income and have a home based business that allows them to live the American Dream.  
Wildtree decided to create and offer products for today's consumers. Most of us do not cook from scratch anymore and let's face it - we are a sauce from a jar, soup from a can, chicken shaking generation. Packaged foods do make our life easier, but they are also expensive, loaded with fats, salts, and preservatives, and just not as tasty as homemade. Why not rediscover cooking & healthy eating the Wildtree way?