Taco Dip

Taco Dip recipe that's great for any occasion.  Quick and Easy.
For more recipes and/or shop for Wildtree products, go to www.TheDinnerPlanMan.com (opens in new internet window).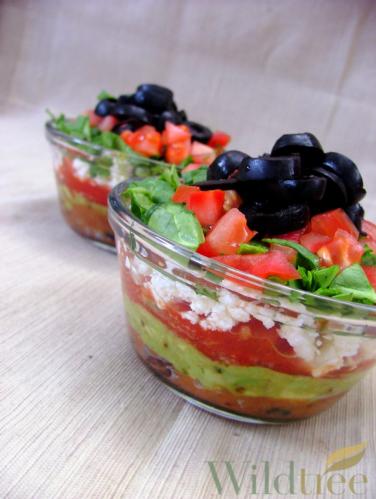 Seven Layer
Servings 12
Ingredient
1 (15.5 ounce) can black beans, drained and rinsed
1 (16 ounce) can refried beans
4 tablespoons Wildtree Taco Seasoning (Item #10575 at www.TheDinnerPlanMan.com)
Wildtree Guacamole Seasoning, prepared according to package directions (Item #10628 at www.TheDinnerPlanMan.com)
Wildtree Fiesta Salsa Mix, prepared according to package directions (Item #10697 at www.TheDinnerPlanMan.com)
1  1/2 cups queso fresco, crumbled
2 cups tightly packed baby spinach, chopped
2 tomatoes, finely diced
1 (6.5) ounce can sliced black olives
Method of Preparation
In a medium sized bowl combine the black beans, refried beans, and Taco Seasoning. Set aside. In a tall glass bowl, or glass serving dish spread the bean mixture in an even layer. Next spread the prepared Guacamole in an even layer on top of the beans. Repeat this with the prepared Fiesta Salsa, queso fresco, spinach, tomato, and black olives. Serve with tortilla chips. (This dip can also be served as individual portions in small clear cups as a fun appetizer at parties.)
---
-----------Advertisement:-----------
-----------Advertisement:-----------
---
Wildtree offers the highest quality herbs, spices and culinary blends that are free of preservatives, additives, fillers and promote a healthier lifestyle. They believe in the value of making cooking a quicker, easier, more healthful project for those who are short on time. Wildtree also offers a fun adventure for those who wish to be more creative in the kitchen. Wildtree offers their representatives the opportunity to earn unlimited income and have a home based business that allows them to live the American Dream.  
Wildtree decided to create and offer products for today's consumers. Most of us do not cook from scratch anymore and let's face it - we are a sauce from a jar, soup from a can, chicken shaking generation. Packaged foods do make our life easier, but they are also expensive, loaded with fats, salts, and preservatives, and just not as tasty as homemade. Why not rediscover cooking & healthy eating the Wildtree way?