Taco Soup Recipe

A taco soup recipe can be a great, quick and easy alternative to this traditional dish...with a healthy twist from The Dinner Plan Man.

For more recipes and/or shop for Wildtree products, go to www.TheDinnerPlanMan.com (opens in new internet window).
---
Taco Soup
Servings 4

Ingredients
1 quart Wildtree Chicken Bouillon Soup Base, prepared according to package directions (Item #10756 at www.TheDinnerPlanMan.com)
1 ¼ cup Wildtree Taco Sauce (Item #10849 at www.TheDinnerPlanMan.com)
¾ cup corn kernels
2 chicken breasts, cooked and shredded
4 tablespoons unsalted butter
¼ cup all purpose flour
shredded cheese, chopped vegetables, sour cream, for garnish if desired

Method of Preparation
In a large saucepan combine the prepared Chicken Bouillon, Taco Sauce, corn, and chicken; heat over medium heat.

Make a roux: In a small saucepan, melt the butter over medium heat. Add in the flour and whisk to combine. Cook over medium heat for 1-2 minutes until the roux is thick and pale yellow. Whisk the roux into the soup. Bring the soup up to a boil. Garnish with shredded cheese, vegetables, and sour cream if desired.  
---
-----------Advertisement:-----------
-----------Advertisement:-----------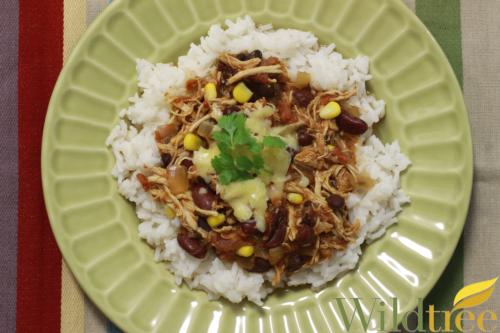 Slow Cooker Chicken Chili Taco
Servings 8
Ingredients
1 (15.5 ounce) can black beans
1 (15.5 ounce) can kidney beans
1 (8 ounce) can tomato sauce
2 (10.5 ounce) cans diced tomatoes with green chilies
1 onion, diced
1 cup corn
3 tablespoons Wildtree Taco Seasoning (Item #10849 at www.TheDinnerPlanMan.com)
1 pound chicken breasts, boneless and skinless
Method of Preparation
In a slow cooker combine all the ingredients up to the chicken. Once combined, add the chicken. Cover and cook on high for 6 hours. Shred chicken, stir to combine with remaining ingredients. Serve over rice or pasta or in a tortilla as a taco.
---