Meal Planning

Meal Planning?!? I can hear it now..."I don't have time enough to make dinner.  When am I suppose to plan?  Who has time????"

Your schedule is busy enough, right!  Then at the end of the day the same old thing - What's For Dinner? Aaahhhhhh!! Are you pulling your hair out with that daily question?
We're juggling so many things with our busy lifestyles nowadays, dinner seems to be put on the back burner.
CLICK HERE FOR DONE FOR YOU MEAL PLANS

Relying on fast food or highly processed foods is sure convenient...but our health is compromised.  The cooking shows and articles are nice but the recipes and ingredients are hard to follow. The cooking methods require years of culinary training...along with more TIME!!
There has to be a better way when it comes to dinner time and Meal Planning!
-----------Advertisement:-----------
-----------Advertisement:-----------
"You don't have to cook fancy or complicated masterpieces - just good food from fresh ingredients." ― Julia Child
Avoid The Stress And Struggle!
Simple, Healthy Cooking Solutions

As a Certified Health Coach and Independent Wildtree Rep, I provide guidance, support and solutions for better health and aging that conforms to your busy lifestyle needs. 
It all starts in the kitchen...starting with the pantry to your meal plans to the cooking. My approach empowers you to make kitchen time quick and easy...with a healthy twist!

CLICK HERE FOR DONE FOR YOU MEAL PLANS
MOM TESTED & APPROVED!
"Love, love, loved the Savory Grilled Tilapia from our Wildtree Meal Bag Workshop! Yum!" - Teri D.
"My boys and I are having fun in the kitchen again!!! I have fallen in love with cooking - and the boys "inhaling" what I'm making!! Thanks, Greg!!" - Larisa B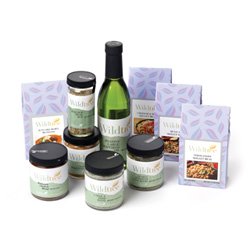 WHERE DO I START?
Having a properly stocked pantry is the first step. This includes your cooking oils, herbs and spices and other ingredients used to prepare your meals.
Our food supply has changed dramatically over the last half century. Chemicals, additives, preservatives, dyes and more have wrecked havoc on our health. Go up and down the grocery aisles and the majority will be highly processed.
The next important thing to tame the dinner time chaos...organization!  Organization is going to play a key role in your meal planning. 
CLICK HERE FOR DONE FOR YOU MEAL PLANS
I recommend getting a three-ring binder or folder to keep organized.  Here you will store your meal planners, grocery shopping lists and menus.  Also it will be a good idea to have a list handy of the family favorites! 
Place this in a kitchen drawer or cupboard for easy reference.
Next up...your meals, grocery shopping list and more in three simple steps! 
Meal Plans Made Easy: A 3-Step System
For help in stocking a healthier pantry: Learn More About Wildtree