Shrimp Recipes

Shrimp recipes that are quick and easy using organic and all-natural ingredients as the base!  There are many ways to enjoy this most popular seafood in America.

For more recipes and/or shop for Wildtree products go to www.TheDinnerPlanMan.com.  
---
Pan Fried Shrimp with Lemon-Soy Garlic Sauce
Servings 4

Ingredients
2 tablespoons lemon juice
3 tablespoons low sodium soy sauce
1 scallion, diced
½ teaspoon honey
1 teaspoon Wildtree Garlic Galore Seasoning Blend (Item #10725 at www.TheDinnerPlanMan.com)
¼ cup flour
1 teaspoon ground ginger
½ teaspoon smoked paprika
2 tablespoons Wildtree European Dipping Oil- Garlic (Item #10599 at www.TheDinnerPlanMan.com)
1 pound shrimp, peeled and deveined
Method of Preparation
In a small bowl whisk together the lemon juice, soy sauce, scallion, honey, and Garlic Galore; set aside. In a separate bowl combine the flour, ground ginger, and smoked paprika. Pat the shrimp dry with paper towels. Heat a large nonstick skillet over medium high heat. Add the Grapeseed Oil. Dip the shrimp in the flour mixture, coating both sides and shaking off the excess. Add the shrimp to the skillet in a single layer and sear, turning once, until opaque throughout, about 2 minutes per side. Transfer the shrimp to a platter and serve with the dipping sauce. A winner among shrimp recipes.

---
Coconut Shrimp Tacos
Servings 5

Ingredients
1 pound medium shrimp, veiled and deveined
2 eggs, beaten
1 box Wildtree Marvelous Macaroon Mix (Item #10829 at www.TheDinnerPlanMan.com)
1 cup fire roasted corn
2 avocados, diced
½ cup scallions, diced
1 tablespoon lime juice
1/8 teaspoon salt
1/8 teaspoon black pepper
½ cup light sour cream
1 tablespoon Wildtree Chipotle Lime Rub (Item #10736 at www.TheDinnerPlanMan.com)
1 tablespoon lime juice
10 (6 inch) tortillas
1 ½ cups red cabbage, shredded
Method of Preparation
Preheat the oven to 425°F. Grease a sheet pan or place parchment paper on it. Dip shrimp in the eggs then thoroughly coat shrimp in Macaroon Mix and place on greased sheet pan. Once all shrimp are fully coated place the sheet pan in the oven for 8 minutes, flip the shrimp, and cook 7 minutes more. While shrimp are cooking prepare the salsa by combining the corn, avocado, scallion, lime juice, salt, and pepper; set aside. Next combine the sour cream, Chipotle Lime Rub, and lime juice; set aside. To assemble tacos divide cooked shrimp among tortillas. Top with corn and avocado salsa, shredded cabbage, and Chipotle Lime Rub sour cream.
---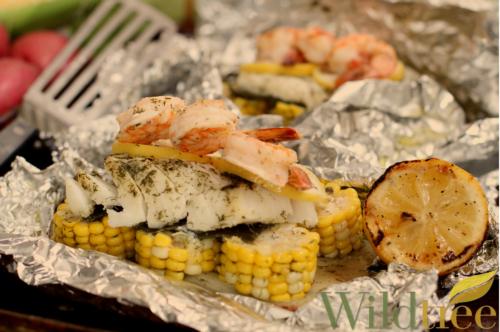 Grilled Seafood Bake
Servings 2
Ingredients
2 tablespoons butter
1 tablespoon Wildtree Dill Dip Blend (Item #10191 at www.TheDinnerPlanMan.com)
2 medium red potatoes
1 bulb fennel
1 lemon
1 ear corn
6 medium shrimp
1  pound cod fillet
2 pieces kombu (optional)
1/2 teaspoon salt
Method of Preparation
Allow butter to reach room temperature and mix it with the Wildtree Dill Dip Blend. Thinly slice whole red potatoes, fennel bulb, and lemon. Slice the corn into 2 inch rings. Peel the shrimp, leaving on the end tail, and cut cod fillet into equally rectangular pieces. When all ingredients are ready, prepare 2 sets of double layered tinfoil. Brush some of the dill butter on the bottom of the tinfoil then stack all in ingredients in order of potatoes, fennel, corn, kombu, cod, lemon, and shrimp, brushing each layer with the dill butter and lightly seasoning with salt. Squeeze a little extra lemon juice into tinfoil pocket. Completely close tinfoil, place on a grill at medium low heat, and cook for 15 -20 minutes until fish and shrimp are done.
Seaweed is a traditional addition to a proper New England Clam Bake. The kombu is optional but adds authenticity to the dish.  Shrimp recipes rock!

---
-----------Advertisement:-----------
-----------Advertisement:-----------
Shrimp and Avocado Soup
Servings 5
Ingredients
1 tablespoon Wildtree Roasted Garlic Grapeseed Oil (Item #10226 at www.TheDinnerPlanMan.com)
1 onion, diced
2 carrots, peeled and diced
2 celery stalks, diced
1 teaspoon Wildtree Garlic Galore Seasoning Blend (Item #10725 at www.TheDinnerPlanMan.com)
1 teaspoon Wildtree Chipotle Lime Rub (Item #10736 at www.TheDinnerPlanMan.com)
4 cups water 2 tablespoons Wildtree Chicken Bouillon Soup Base (Item #10756 at www.TheDinnerPlanMan.com)
1 (15 ounce) can white hominy, drained and rinsed
1 (10 ounce) can roasted diced tomatoes with green chilies, undrained
1 cup low sodium tomato juice
1 pound shrimp, peeled and deveined
1 avocado, diced
Sliced radish, cilantro, lime wedges for garnish
Method of Preparation
In a large saucepan heat the Grapeseed Oil over medium heat. Add the onion, carrot, and celery and sauté for 5 minutes. Add the Garlic Galore, Chipotle Lime Rub, water, Bouillon, hominy, and diced tomatoes with chilies. Bring to a boil, then cover and lower heat to a simmer. Cooking for 7-10 minutes or until the vegetables are tender. Add the tomato juice and shrimp. Continue cooking for about 3 minutes or until the shrimp are cooked through. Remove from heat. Add the avocado. Garnish with sliced radish, cilantro, and lime wedges if desired.  Keep this along with your other favorite shrimp recipes.

---
For more shrimp recipes and/or shop for Wildtree products go to www.TheDinnerPlanMan.com.
Wildtree offers the highest quality herbs, spices and culinary blends that are free of preservatives, additives, fillers and promote a healthier lifestyle. They believe in the value of making cooking a quicker, easier, more healthful project for those who are short on time. Wildtree also offers a fun adventure for those who wish to be more creative in the kitchen. Wildtree offers their representatives the opportunity to earn unlimited income and have a home based business that allows them to live the American Dream.  
Wildtree decided to create and offer products for today's consumers. Most of us do not cook from scratch anymore and let's face it - we are a sauce from a jar, soup from a can, chicken shaking generation. Packaged foods do make our life easier, but they are also expensive, loaded with fats, salts, and preservatives, and just not as tasty as homemade. Why not rediscover cooking & healthy eating the Wildtree way for your shrimp recipes?
Leave Shrimp Recipes and return to Recipes