Home Workout
Home Workout...I know I know...you don't have time!

It is the number one reason people give for not working out.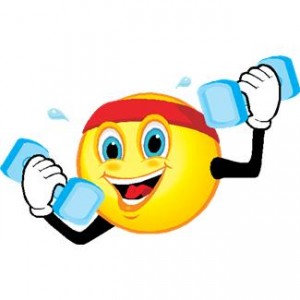 It can be easier to incorporate into a busy day than most think. For a fitness plan to be effective, it doesn't have to be strenuous and intense. A workout should incorporate endurance (cardio), strength training, flexibility and body composition.
The U.S. Surgeon General recommends at least 30 minutes of moderate physical activity or exercise on most days of the week. But only about a 1/3 of adults do this amount of physical activity. So if you have trouble being active enough, you are not alone.
Use This Diet With Your Exercise Program
Home Workout Options
Joining a gym isn't required to get the benefits of regular physical activity. Physical activity is anything we do that uses energy or burns extra calories. Some examples of physical activity that we might do in our daily lives include raking leaves, folding laundry, grocery shopping, or walking a dog. Exercise is a planned or repeated movement that we do to improve our health. Examples of exercise include swimming, walking, lifting weights, yoga, or tai chi.
The power of regular physical activity is tremendous. Obvious is the physical health benefit of maintaining a healthy weight and the reduced risks of chronic diseases. But it also can have a great impact on your emotional and spiritual well-being.
Just like any new endeavor, putting a exercise routine in your life takes a commitment, assessment and a plan. With this in mind, it will become a regular routine in your day as getting out of bed, brushing your teeth or going to work.
Slim In 6 is an excellent Home Workout Option

Get Extreme With the P90X Program
Exercise Focus & Benefits
Your workouts should focus on four aspects:
Aerobic Power – Often referred to as cardio

Flexibility – this requires stretching

Strength training – for muscle tone and routine daily activities…not the body building variety

Body composition – Lean muscle mass vs. body fat
Establishing a regular exercise routine will have great benefits. These include:
greater strength
more endurance
reduced risk of disease
greater independence…so important as we age
Are You A Busy Mom Or Professional And Short On Time?
Are you a busy mom? Have a demanding career? Do you think you won't ever fit into your skinny jeans again. Now you can even if you're short on time.
Of course, you have to commit and stick to the plan. Watch how these two did it: