Grapeseed Oil - A Reference Guide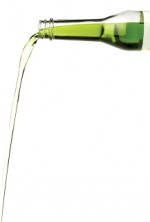 Grapeseed Oil (GSO) is a mystery to most. However, it has been around for centuries in wine production areas. But in the U.S., many have not heard about its uses and benefits.
However, that is changing primarily to the versatility that it provides in the kitchen. It has a subtle flavor, high flashpoint (smoking or burning point) and doesn't absorb into foods as readily as other cooking oils.
GSO is very similar to the health benefits of olive oil. Olive oil has become the popular "healthy oil" most will have in their kitchen. GSO on the other hand is just gaining in popularity. Gourmet chefs have discovered its versatility in the kitchen and now it is starting to get recognized as well by the in-home cooks.
Grapeseed Oil vs Olive Oil - Which is better?
It has a light, smooth and delicious taste. GSO has a low absorption rate into foods allowing the pure flavor of fresh food to come through. It is good for you also as it has a high concentration of poly unsaturated fat (omega 6) and also one of the lowest amounts of saturated fat. Saturated fat is a "bad" fat that you want to limit in your diet.
It is also versatile in the kitchen because it has a high flashpoint at 419 degrees meaning it doesn't burn easily. Its delicate flavor and body make it perfect as a dipping oil with breads. But the high flashpoint also make it ideal for sautéing, baking and stirfrys. Try it in salad dressings, on pasta, marinades or bastes for the grill.
Although it is a great cooking oil, people also use it for the skin, hair and face.
Greapeseed Oil Health Benefits
♥ There are NO preservatives such as TBHQ or BHT
♥ It is NOT hydrogenated
♥ There is NO sodium
♥ NO trans fatty acids
♥ NO cholesterol (it actually aids in cholesterol reduction)
♥ It has one of the lowest levels of saturated fats of all oils
♥ It is easily digestible
♥ Good source of Vitamin E Alpha (an important anti-oxidant)(4.3 mg per serving)
♥ Highest concentration of poly (76%) unsaturated acid of any oil
♥ Helps the body produce High Density Lipoprotein (HDL)
♥ High in Linoleic acid – and its health benefits:
- is a fatty acid which acts as a transporter for saturated fats
– helps prevent accumulation in the arteries
- also known as Omega-6 and in near identical proportions to mother's milk
- vital to life and cannot be produced by the body alone
Buy Grapeseed Oil
When it came to selecting a vendor to offer my customers to puchase high quality GSO, I chose Wildtree and am now an Independent Wildtree Rep.
Wildtree has a dozen varieties of GSO. It is an all-natural food company that doesn't use any preservatives or chemicals in any of their items. Wildtree's grapeseed oil goes through testing for 350 contaminants. It is produced using the expeller pressed method.
If you're new to GSO, I recommend starting with one of the sets below. Upon going to my personal Wildtree site, click "Shop" on the menu bar and use these item codes or description:
Shop Wildtree
#10162 - Infused Grapeseed Oil Set: This set has four 5 oz. bottles (very cute by the way). The set has Roasted Garlic, Natural, Lemon Zest and Basil Pesto. Price is $36.
#10163 - Garlic and Natural GSO set: For those wanting smaller bottles of these two popular flavors these come in 8 oz. sizes. Price is $24.
#10172 - For Garlic Lovers Gift Set: One of the most popular spices in the world is garlic...and many of Wildtree's best sellers include this seasoning. This set includes Roasted Garlic GSO (8 oz. bottle), Garlic and Herb Blend (2 oz.) and Scampi Blend (2 oz.). Included are repipes and ideas. Price is $25.
Shop For Grapeseed Oil at Wildtree

Return to the Cooking Oil Page

Return To The Home Page