Easy Shrimp Recipes

Easy Shrimp Recipes are a great "go to" in answering the "What's For Dinner" question.  The Wildtree way makes it organic and all-natural too.

For more shrimp recipes that we've posted in the blog, click here.
To shop Wildtree and or see all the recipes, click here to go to www.TheDinnerPlanMan.com.

---
Buffalo Shrimp Tostadas
Servings 6       
Ingredients

1 pound shrimp, peeled and deveined
2 teaspoons Wildtree Blazin' Buffalo Blend (www.TheDinnerPlanMan.com Item #10787)
2 tablespoons hot sauce (optional)
6 corn tortillas
1 ½ cups shredded lettuce
½ cup blue cheese, crumbled lime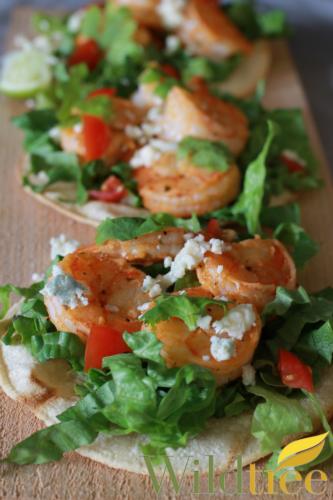 Method of Preparation

In a bowl combine the shrimp, Buffalo Blend, and hot sauce. Marinate for 10 minutes. Heat a skillet over medium to high heat, add shrimp and cook on both sides until shrimp are pink and cooked through. Remove from heat. Meanwhile preheat broiler to low. Place corn tortillas on a baking sheet and place in oven on the bottom rack. Cook fro about 3 minutes or until golden brown. Flip and repeat. Remove from oven and cool slightly. Divide lettuce among tortillas then top with cooked shrimp and blue cheese. Squeeze lime juice over each tostada. Garnish with cilantro if desired.

-----------Advertisement:-----------
-----------Advertisement:-----------
---
For more shrimp recipes and/or shop for Wildtree products go to www.TheDinnerPlanMan.com.
Wildtree offers the highest quality herbs, spices and culinary blends that are free of preservatives, additives, fillers and promote a healthier lifestyle. They believe in the value of making cooking a quicker, easier, more healthful project for those who are short on time. Wildtree also offers a fun adventure for those who wish to be more creative in the kitchen. Wildtree offers their representatives the opportunity to earn unlimited income and have a home based business that allows them to live the American Dream.  
Wildtree decided to create and offer products for today's consumers. Most of us do not cook from scratch anymore and let's face it - we are a sauce from a jar, soup from a can, chicken shaking generation. Packaged foods do make our life easier, but they are also expensive, loaded with fats, salts, and preservatives, and just not as tasty as homemade. Why not rediscover cooking & healthy eating the Wildtree way for your shrimp recipes?