Baked Chicken Recipes

Baked Chicken Recipes that are simple, quick and healthy.
Baked Cranberry Chicken
Servings 5
Ingredients
½ cup Wildtree Spiced Cranberry Jam
1 tablespoon Wildtree Garlic Galore Seasoning Blend
1 tablespoon Wildtree Onion & Chive Blend
¼ cup dried cranberries
1.5 pounds chicken breast
½ teaspoon Wildtree Rancher Steak Rub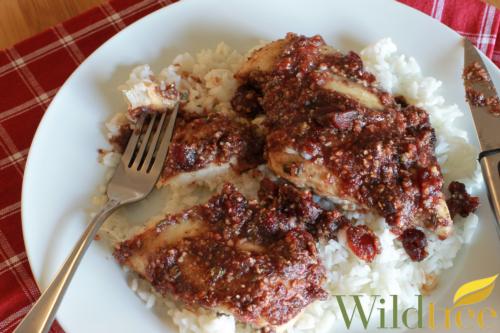 Method of Preparation
Preheat oven to 350°F. In a bowl combine the Cranberry Jam, Garlic Galore, Onion & Chive Blend, and dried cranberries. Add the chicken breasts to a greased baking dish and season with the Rancher Rub. Top with the Cranberry Jam mixture; make sure the chicken is complete coated. Bake uncovered for 40 minutes or until chicken is completely cooked through.
Nutritional Info
Calories: 260
Fat:2g
Saturated Fat:0g
Carbohydrates: 28g
Fiber: 1g
Protein: 32g
Cholesterol: 80mg
Sodium: 210mg
For other chicken recipes and more and/or shop Wildtree, visit www.TheDinnerPlanMan.com.

-----------Advertisement:-----------
-----------Advertisement:-----------
Leave Baked Chicken Recipes and return to Recipes