Whats For Dinner?
Whats For Dinner Tonight?  Our Pantry Makeover Starter Set is the answer with our Quick, Easy and Healthy Meal Plans.
Pantry Makeover Starter Set includes three items; one oil and two culinary blends of herbs and spices.  Recipes, ideas, tips and more are also part of this set.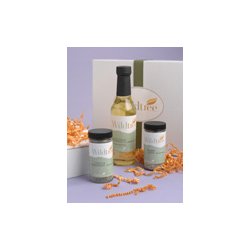 Also called the Garlic Lovers Set, this includes an 8 oz. bottle of Roasted Garlic Grapeseed Oil, a 1 oz. jar of Garlic and Herb Blend and a 2 oz. jar of the ever popular scampi blend. 

For a limited time, you will also be assigned a Health Coach and receive access to the following at no additional cost: 

Private FB group
Privates Webinars
Private Workshops (food/cooking/grocery shopping tour related)
FMW Virtual Prep Parties
Food/Fitness/Nutrition tips, Recipes, Health information and more
Shop my store at www.TheDinnerPlanMan.com,
click the "Shop" tab and order the Garlic Lover's Set, item #10172


If you have any questions, are interested in the other bundles or hosting a Workshop, please contact me today!

Coach Gregory Scott CHHC
"The Man With The Dinner Plan"
Certified Holistic Health Coach and Independent Wildtree Rep
734-368-3405
Email: greg@Fit4LifeUSA.org
www.TheDinnerPlanMan.com
www.facebook.com/TheManWithTheDinnerPlan
Simple, Healthy Cooking Solutions

As a Certified Holistic Health Coach and Independent Wildtree Rep, I provide guidance, support and solutions for better health and aging that conforms to your busy lifestyle needs. 
It all starts in the kitchen...starting with the pantry to your meal plans to the cooking. My approach empowers you to make kitchen time quick and easy...with a healthy twist!
WHERE DO I START?
Having a properly stocked pantry is the first step. This includes your cooking oils, herbs and spices and other ingredients used to prepare your meals.
Our food supply has changed dramatically over the last half century. Chemicals, additives, preservatives, dyes and more have wrecked havoc on our health. Go up and down the grocery aisles and the majority will be highly processed.
The next important thing to tame the dinner time chaos...organization!  Organization is going to play a key role in your meal planning. 
I recommend getting a three-ring binder or folder to keep organized.  Here you will store your meal planners, grocery shopping lists and menus.  Also it will be a good idea to have a list handy of the family favorites! 
Place this in a kitchen drawer or cupboard for easy reference.
-----------Advertisement:-----------
-----------Advertisement:-----------
---