Healthy Cooking
Healthy cooking…is it a hassle? Is it still a mystery to you? Are you intimidated by the indgredient list and instructions of the recipes? Maybe it is just that you think you don't have the time.
Well have we got great news for you that is going to take the worries away!!
We understand you have a busy schedule that leaves little time to even think about your meals…not to mention with today's economy, every bit of your food budget has to count.
It's a topic with a lot of ground to cover. There is some overlap between Healthy Cooking and Healthy Eating but this page will just be an introduction to some of the things you will have to learn. We will cover more in the supporting pages and blog posts.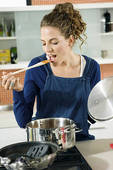 With time being so limited today (even though we know there is still 24 hours in day), convenience and highly processed foods have taken over the industry.
But is it really in our best interest?
Of course not. Our health suffers. The food industry isn't going to do anything about it until we demand it.
Most food companies are publicly traded companies that have one overriding objective…PROFITS. And it is at the expense of the consumer's health. So they use ingredients that are cheap! It is these cheap ingredients that are fueling our obesity crisis.
So healthy cooking starts with understanding healthy vs. unhealthy ingredients. Learn how to READ LABELS. Again, I won't go into detail here on this page but look for post in my blog about the content of sodium (salt) , sugar, additives, food dyes, high fructose corn syrup and partially hydrogenated oil…just to name a few!
What's In Your Pantry?
From there, it's on to your pantry.
What is hiding in the corner of yours?
If you're like most…you're going to find things in there that are about three years old…just in case that special recipe calls for it. Do yourself a favor and throw it away without giving it a second thought.
Along with this is Processed vs Unprocessed Foods. Healthy cooking emphasizes fresh ingredients that are nutrient dense…and calorie poor. Along with the food industry using cheap ingredients in the name of profits, they also package their food to last for years on the grocery store's shelf. So they are going to contain a lot of preservatives and chemicals.
Try to incorporate more all-natural and organic foods into your grocery shopping. Now be careful on the labels here. The FDA doesn't regulate "natural food" labeling like they do with organic. However, even "organic" doesn't mean totally organic…look for labels that say 100% organic.
So are you ready to get started on a path to cooking healthy? When it comes to your pantry, Wildtree is an excellent choice.
It's a great little company that is growing fast and starting to get more recognition...not only for their all-natural food line (they just announced their going 100% organic by mid 2012) but also their QUICK & EASY recipes. They have about 200 items…everything to help you with your cooking, from appetizers to desserts…breakfast, lunch and dinner.
To shop Wildtree, click here


Leave Healthy Cooking and return to the Home Page