Cellular Nutrition
What is cellular nutrition? This could turn into a complex subject as it involves the human body and how it works. But we don't want to get into all that science. Just some of the basics.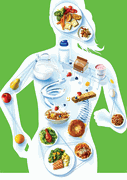 Cellular Nutrition - The Human Body
One Body, One Life! It is estimated the human body is made up of trillions and trillions of cells. All living organisms are made up of cells, thus they are called the building blocks of life. Groups of cells combine and work in tandem to form tissue, which combines to form organs, which work together to form organ systems. Providing your body with the right nutrients will help nourish and strengthen your cells for proper function.
Cells provide the power for everything we do. So you can see why maintaining good nutrition is important. There are five things necessary to keep our cells in optimal health:
1. Oxygen - Common sense - enough said
2. Nutrients - A constant supply. Meaning don't starve yourself. Macronutrients being Carbohydrates, Proteins and Fats
3. Water - You have heard of drink plenty of water daily, right?
4. Proper Temperature - Cells use oxygen to burn or metabolize carbohyrdrates to create heat and energy needed to sustain life. If the cells get too hot or cold, they will die.
5. Disposal system - Life and death of cells is a continuous process. The dead cells must be carried away so the healthy cells won't suffocate. Water is essential to this process.
To learn move from a scientific point of view and the biology/science of cells, click here.
Cellular Nutrition - The Fuel
We are what we eat as the saying goes. Food is the fuel that our bodies need for proper nutrition. But a key point...the right kind of food for optimal health.
When it comes to how we feel…good or bad…the majority of the time it comes down to food:
What we eat (the type of food as well as the quality)
How much we eat

When we eat

A poor diet can leave you dragging, cause headaches, feeling run down, tired, grumpy…you get the picture. A great diet on the other hand can leave you full of energy, help maintain a healthy weight and reduce the risk of chronic diseases. It some cases, it can even reverse chronic diseases.

To learn more about our bodies need for the proper food, click here to go to Nutrition 101.

Leave Cellular Nutrition and go to the Home Page